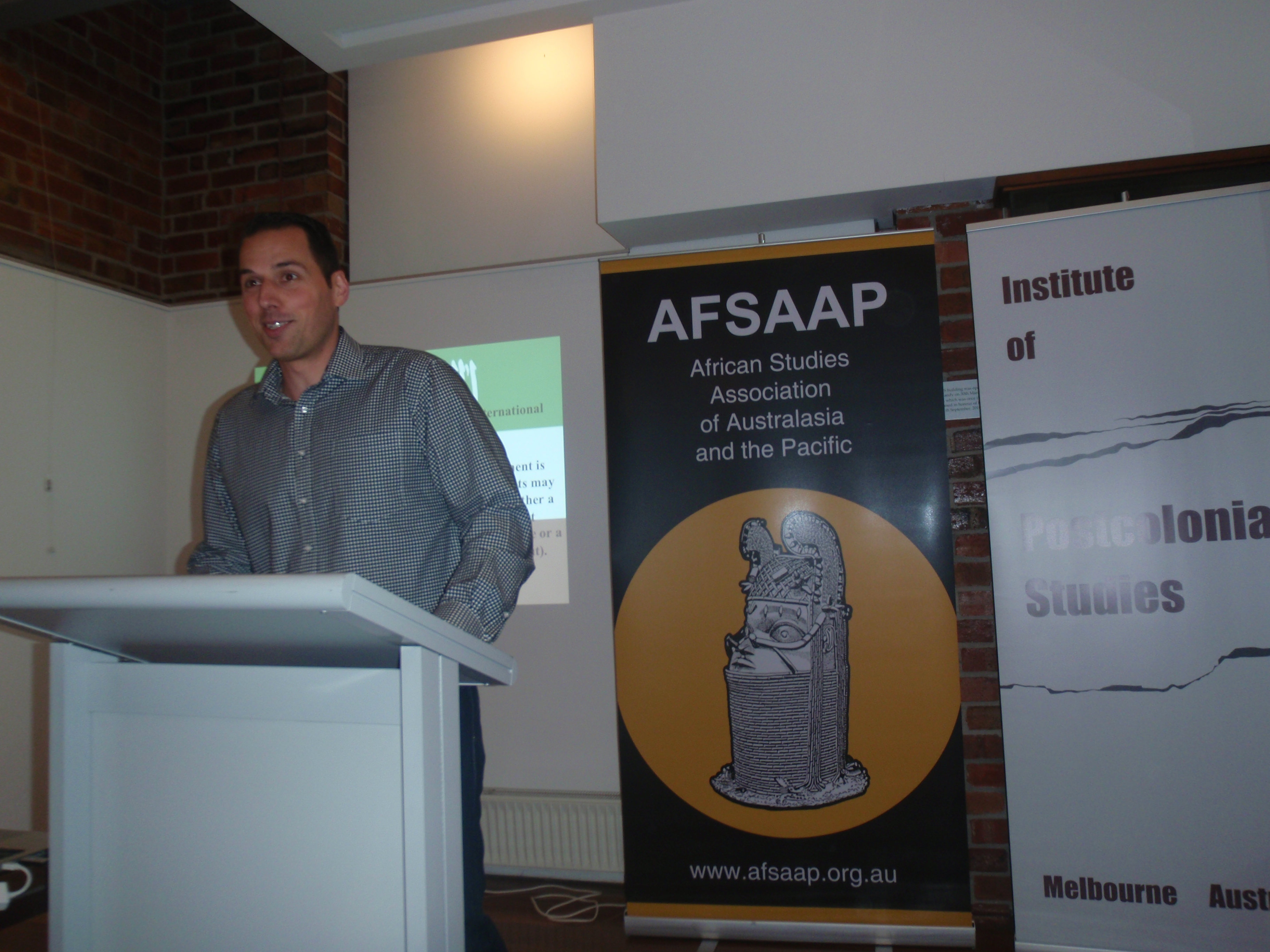 The ASAAP-IPCS seminar series on African Studies has wrapped up in Melbourne with two papers on Somalia presented by Nikola Pijovic and Dr Ali Mumin Ahad. Since the collapse of the Barre regime in 1991, civil war has characterised life in much of Somalia in one way or another. Although the conflict has received much attention from international media, many of the political, historical and cultural complexities of the conflict have been profoundly misunderstood. With a new government in Mogadishu and recent military intervention by neighbouring states, it appears that the war is entering a new phase, making a better understanding of its causes and nature imperative. The recent attack on the Westgate shopping complex in Nairobi has also brought it to the attention of a new international audience.
The evening began with a detailed historical overview of the Italian colonial era by Dr Ali Mumin Ahad, formerly of the Somali national University in Mogadishu. Dr Ahad discussed the links between this era and the fall of the Barre regime in 1991, as well as the complex situation of the current conflict. Under the title Colonialism in Somalia: political dynamics in a historical perspective, the paper gave a thorough critic of the postcolonial Barre regime and showed how its failings led directly to the current crisis.
This was followed by a second paper by Nikola Pijovic, PhD candidate from the Australian National University in Canberra, who presented a paper titled: Somaliland and the complexities of international state recognition, on the continuing separatist claim of the autonomous province of Somaliland in the north of Somalia. Pijovic drew comparisons with the separatism of his native Croatia to foreground a rich account of the international processes related to state recognition, and the history of Somaliland's claim to independence. This was followed by a conversation about how the problematics of the nation state continue to haunt international relations in this and other regions of the non-west. Despite the great diversity of the two papers' subject matter, an engaging conversation ensued that was benefited greatly by the presence of members of the local Somali community.
The seminar series for 2013 is now over. If anyone is interested in speaking at a similar event in Melbourne next year, expressions of interest should be sent to series convener Sam Wilkins at samdouglaswilkins@gmail.com.