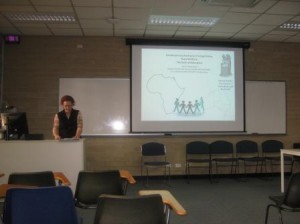 On April 5th 2013 AFSAAP President Dr. Tanya Lyons Presented a paper entitled "The Role of Education in Australia's foreign policy toward Africa"  at the Flinders University School of International Studies Seminar Series in conjunction with the AFSAAP Seminar.
This paper was a draft version of a chapter that will appear  in  David Mickler and Tanya Lyons, eds., New Engagement: Contemporary Australian Foreign Policy Toward Africa, Melbourne University Press, 2013, forthcoming.
Lyons argued that the role of the education sector in Australia's relationship with Africa is currently dominated by the Australia Awards in Africa (AAA) Scholarships program, which will educate up to 1000 African students per year from 2013 through to 2016 in targeted courses in Australian institutions. However, while there is a new engagement with Africa through such schemes, as Lyons pointed out, at the tertiary level, and at the primary and secondary levels, there is a need to educate Australians about Africa, which would in turn contribute to a more informed Australian foreign policy towards Africa.