AFSAAP News:
June 20th, 2016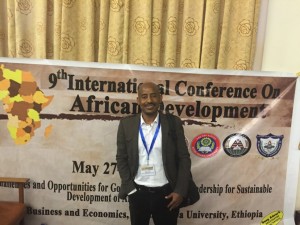 AFSAAP Member Mr. Zafu Assefa Teferi  from Curtin University was awarded the $1000 AFSAAP Travel Grant to promote AFSAAP at this recent conference held in Addis Ababa, Ethiopia May 27-28 2016. For further information about these AFSAAP Travel Grants
see  http://afsaap.org.au/opportunities/funding-to-attend-conferences/
June 1st, 2016

AFSAAP is pleased to offer 2 travel grants of up to $500 to cover travel costs to attend the 2016 Annual AFSAAP Conference in Perth.
For further details see http://afsaap.org.au/opportunities/postgraduate-travel-grants-for-2015-afsaap-annual-conference/
January 28th, 2016

The AFSAAP Executive are pleased to announce the winners of the 2015 conference postgraduate essay prizes.
The winner of the $3000 Monash/AFSAAP Postgraduate Prize for is Charlotte Mertens for her paper "Sexual violence in the Congo Free State: Archival traces and present reconfigurations". Charlotte is enrolled in a PhD at the University of Melbourne and will travel to Africa. AFSAAP wishes to acknowledge Monash University for the special sponsorship of this prize since 2010.
The winner of the $500 Cherry Gertzel – AFSAAP Postgraduate Prize for 2015 is Naomi Thompson, for her paper "Surviving vs. Living: The importance of resilience in the transformative redefinition of Ghanaian breast cancer survivors". Naomi is enrolled in a PhD at Macquarie University.
Congratulations to both of the winners.
Show All News